Did someone say gluten-free beignets??
When you are allergic or sensitive to gluten- baked goods are usually a no-no.
One of the things I missed the most when I started going gluten-free were doughy items, like clam cakes, fried dough, and donuts.
So when I heard that Scat's Cafe, at Disney's Port Orleans French Quarter, had gluten-free beignets, I had to go and try them.
I live in the Orlando area, so I decided to pop over to the French Quarter on a boat from Disney Springs. The watercraft is available (at the time of writing this) from 10:30 in the morning to 11:30 at night, and it's just a quick and relaxing ride from Disney Springs to Port Orleans French Quarter.
You can see Saratoga Springs and the Tree House lodging, along with the golf course on your journey. The boat will drop you off at the dock and it's just a short walk up to the front entrance of the Port Orleans French Quarter- that's where you will find Scat's Cafe.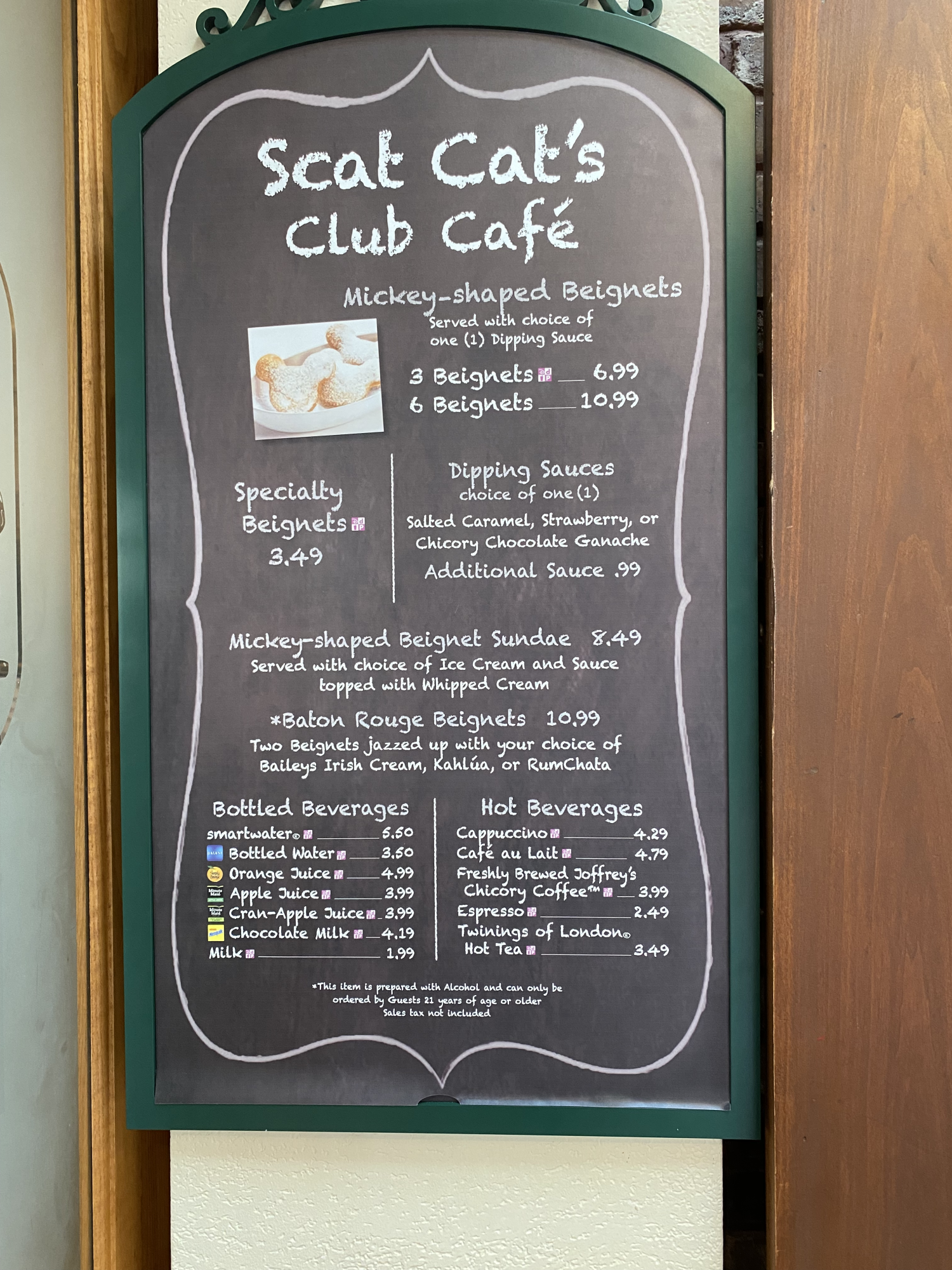 Scats Cafe is a cute little cafe that has a wonderful menu of beignets and coffee that makes you feel like you are in the French Quarter! You can order 3 or 6 beignets. When I went up to the register I chatted with the cast member who assured me that the beignets are not only for gluten sensitive people but also for those with a gluten allergy. The dipping sauces are all gluten-free as well, which was a happy surprise- there are three sauces available- chocolate, strawberry, and caramel.
I placed my order after speaking with the cast member- I felt comfortable with ordering the beignets and strawberry sauce. I waited between 5-10 minutes and my name was calked-my beignets were ready!! They came out piping hot and smothered in confectionary sugar. I had to wait 5 minutes to dig in! They were SO delicious! They were crispy and chewy, yet soft in the middle. The strawberry dip was what they would say is the "icing on the top".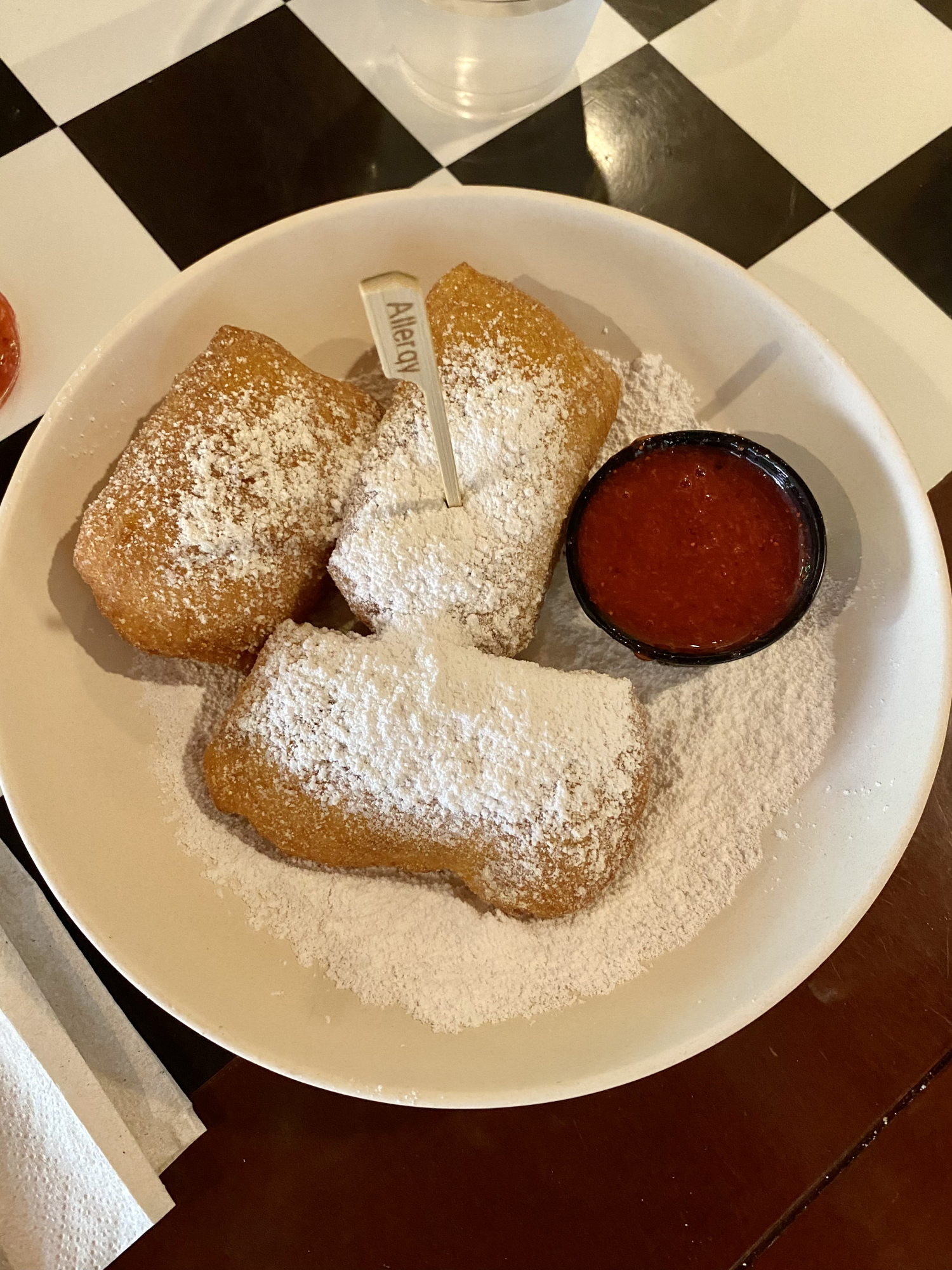 When you decide to visit Scat's Cafe be sure to talk to the cast member about your food allergy- you may also request that a chef come out to talk to you about your allergy. Please remember that Disney has certain policies in place- they do not guarantee any of their foods to be 100% allergen-free. Please see their allergen statement below.
So…. I thought I would just have one beignet and I would bring the other two home to my husband but…. they did not make it home! They were so delicious that I finished all three! I walked around the resort for a bit when I was done (reminiscing- our first trip with our son was in 2011 at this resort!) Then, I headed back onto the boat and headed to Disney Springs (when you go back to Disney Springs- you will need to go through security again).
if you were staying on Disney property you can take the bus to Disney Springs and then the boat to Port Orleans French Quarter. You could Uber or Lyft to the Port Orleans French Quarter and at the gate, you can let them know that you're going to eat at Scat's Cafe…but please know that each Disney Resort is different -some will let you in without a dinner or lunch reservation, however, there are some resorts who have limited parking and you may only visit that Resort if you have a dining reservation (like Animal Kingdom).
We use reasonable efforts in our food preparation and handling procedures to avoid the introduction of the most common allergens into your menu choices. While we take steps to prevent cross-contact, we do not have separate allergy-friendly kitchens and are unable to guarantee that a menu item is completely free of allergens.
Additionally, allergy-friendly offerings are reliant on supplier ingredient labels, and we cannot guarantee the accuracy of the contents of each food item. Allergen advisory statements (e.g., "may contain") are not regulated and therefore not taken into consideration when developing allergy-friendly meals. It is ultimately up to your discretion to make an informed choice based upon your individual dietary needs.
Sheri is a mom, wife, coach, author, speaker, and educator. She helps women in midlife to gain energy, be healthy, and to find JOY again. She lives near Cinderella's castle in Winter Garden. Florida with her family.
From time to time, Sheri may share affiliate links on her blog and website, and may earn a small percentage on your purchase-this will not cost you anything extra, and she appreciates your support!
Please join her free community for midlife women here.