Let's hit the waves of Typhoon Lagoon!
Dining out with food allergies and sensitivities can be stressful, as an allergy mama and someone who is gluten-sensitive, I totally get it.
I've been to Typhoon Lagoon a few times and each time, I've been able to find things that work for my family.
Before you go, familiarize yourself with the park map and restaurant locations. This will help you plan your day and make note of any places you want to avoid.
Pack extra snacks and drinks that you know are safe for you or your family member- if you feel safest preparing your child's or your lunch, you can bring it with you!
Pack disposable placemats, as well as hand sanitizer and wipes for the table. I was pleased to see cast members wiping down the tables after diners were finished eating.
Visit the restaurant where you would like to eat beforehand- ask to see the allergy-friendly menu, so that you have an idea of what is available- lines can get long and when you order food from the allergy-friendly menu- it takes a little longer, with all of the precautions they take. This will help save you some time.
Try to avoid the busiest times of the day. The lines will be shorter and it will be less stressful for you.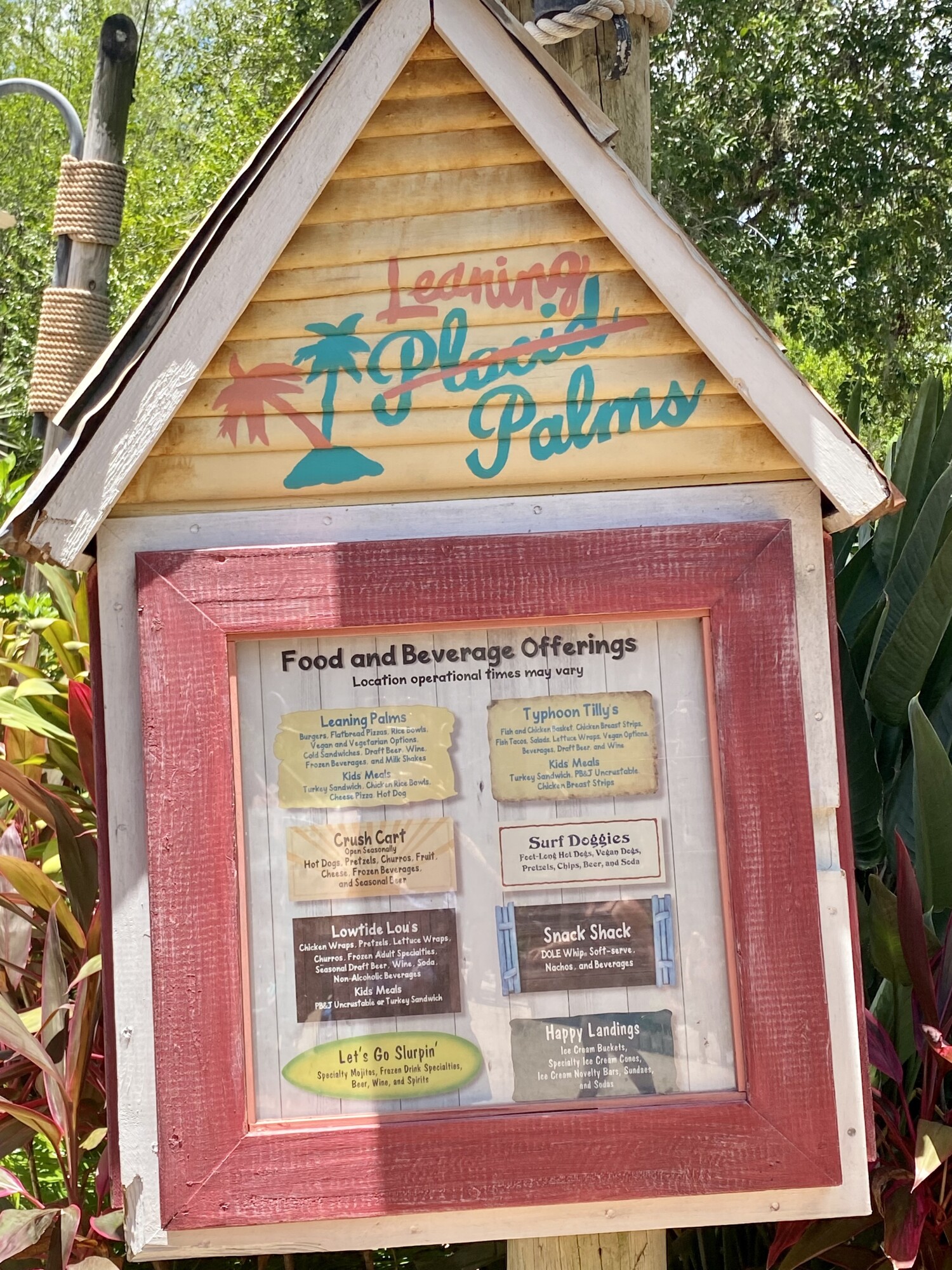 On this visit to Typhoon Lagoon, we ate at Leaning Palms. They had a pretty extensive allergy-friendly menu-lots of choices. The menu shows what you CAN eat if you have an allergy to a specific ingredient. At this location, mobile ordering was not available- we had to go to the counter to order. I ordered a Gluten/Wheat Allergy-Friendly Hamburger on a gluten-free roll, with safe french fries. It was delicious, and the bun was soft and did not fall apart.
When you are ordering, If you have any specific questions or concerns, don't hesitate to ask a cast member for assistance. They will bring the chef out to talk to you. They are always happy to help! Also, always let them know of the allergy, and tell the cast member that you are ordering from the Allergy-Friendly menu.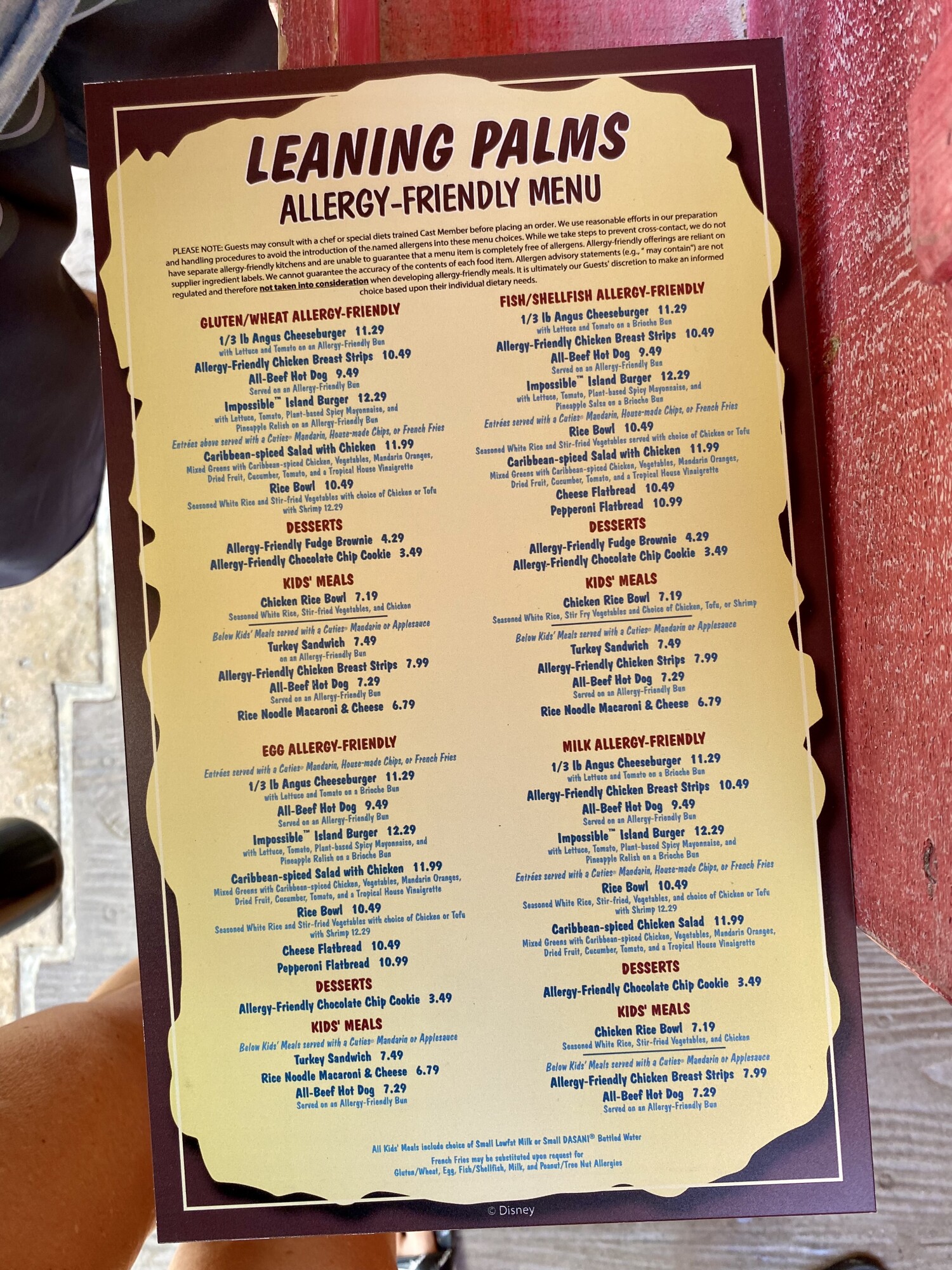 Please note Disney's allergy disclaimer, available at dining locations and on the Allergy-Friendly menus-and make your own decisions based on what you feel comfortable with for you or your family member.
Here is some advice from the Disney World Website if you have 4 or more allergies "
If you or anyone in your party has either 4 or more allergy-friendly requests, requires pureed meals, or adheres to a medically-restrictive diet (such as very low protein), contact
Special.Diets@DisneyWorld.com
in advance to ask for a Special Dietary Request Form."
I hope these tips help you enjoy your next visit to Typhoon Lagoon! Have fun and stay safe!
If you have any questions, feel free to reach out to me. I'm always happy to help!
Sheri Poyant does not claim to represent and is not affiliated with, endorsed by, employed by, authorized by, or officially connected with The Walt Disney Company or its affiliates. All trademarks are the property of Disney Enterprises, Inc. The information in this blog is for educational purposes only-it is not official Disney food allergen information. Please take care to do your own research, speak to chefs or managers, and always check products as menus and ingredients may change. Please visit www.disneyworld.com for official information.
Sheri is a mom, wife, coach, author, speaker, and educator. She helps women in midlife to gain energy, be healthy, and to find JOY again. She lives near Cinderella's castle in Winter Garden. Florida with her family.
From time to time, Sheri may share affiliate links on her blog and website, and may earn a small percentage on your purchase-this will not cost you anything extra, and she appreciates your support!
Please join her free community for midlife women here.