We all want a clean home, right?
As a young girl, I remember my mom taking such pride in our home- our house sparkled and she was constantly cleaning it. I remember her on her hands and knees, scrubbing the floors before company came (Why do we do that?? They are only going to get dirty again! I am so000 guilty of this too!).
I lived in a raised ranch and when my parents had our basement finished into a living area, they decided that we would have our Christmas tree downstairs. Each year on Thanksgiving weekend, we would clean the basement before decorating. We had paneled walls (hey, it was the 70s!) and we would wash them with a pine liquid cleaner. My sister and I always say that the smell of that cleaner reminded us of Christmas.
Say what? This was not your natural pine soap, but a chemical filled cleaner that we (and my parents) had NO idea was full of harmful chemicals.
My mom died of Alzheimer's disease a few years ago- and every time I hear about toxic cleaners, I think of how many years I watched her clean with bleach and ammonia. On her knees, breathing it in. Did this contribute to her illness? I will never know, but I make sure to keep my family safe now that I do know about how toxic chemicals can affect your health. When you know better, you do better.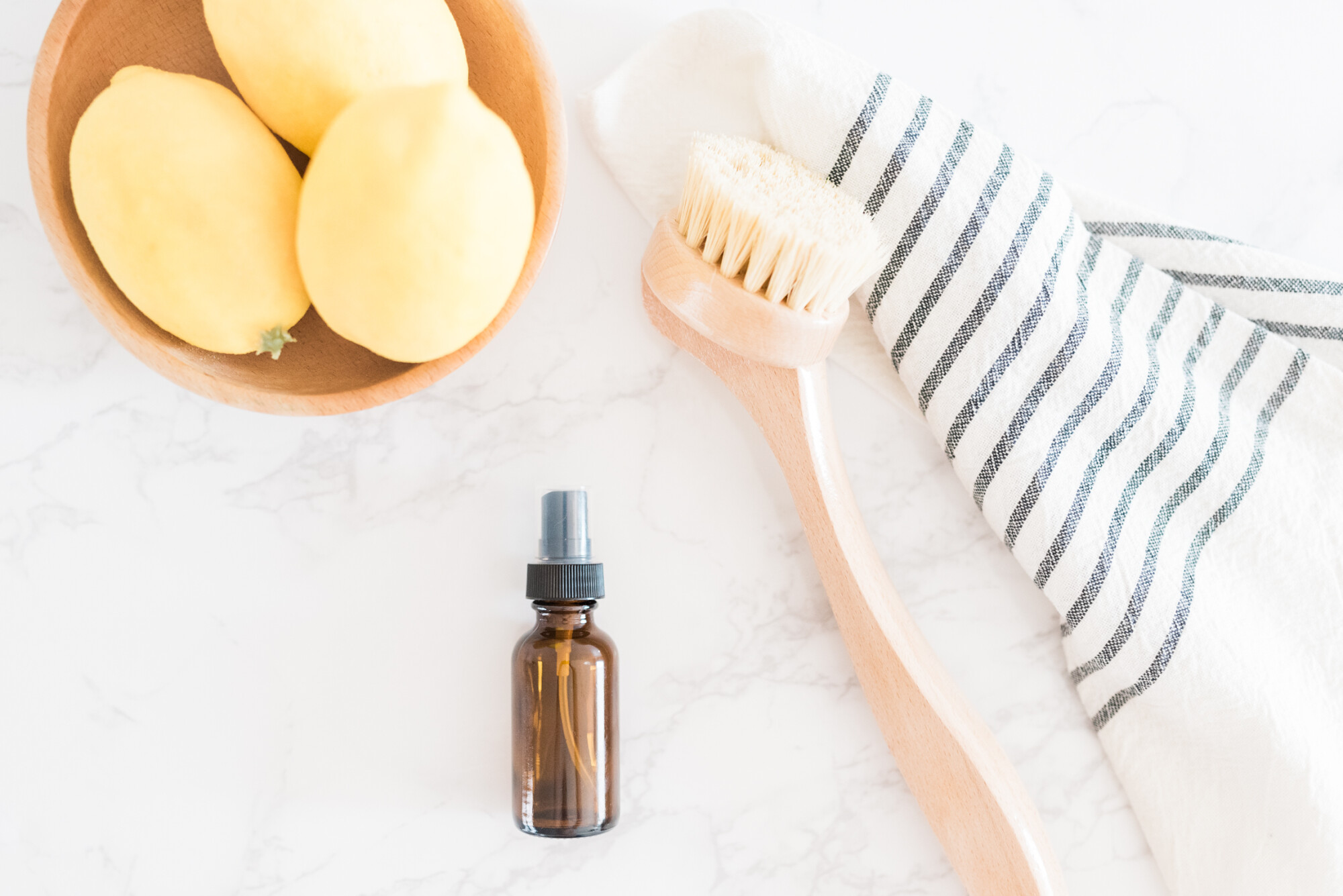 So, fast forward from the 1970s to 1999, when my husband and I bought our very first house. I cleaned like crazy each week with all the chemicals, making sure my house sparkled. I was so proud of our new home, and wanted it to sparkle like mine did growing up.
When my son was born in 2004, I was at a point where I was learning about eating organic and limiting chemical exposure- as an adult I had developed asthma, allergies and autoimmune disease, and I had begun making changes in our home.
I still remember washing my floors, on my hands and knees every other day when my son was learning to crawl. I used a lavender "all natural" cleaner, feeling it was safe. It was labeled plant based after all! I also used "all natural" dish soap and hand soap. I thought I was being a good mom- and I trusted that products that were sold at my favorite stores were safe for my son, my dogs, and for me and my husband.
Years later, I learned about Green Washing, and how there are not any regulations for labeling your cleaning products as toxic, or plant based. That all natural lavender floor cleaner? TOXIC! The dish soap that I washed our dishes with, that said it was plant based- TOXIC! Check out this article here to learn more about the dangers of that name brand product.
When I see people using toxic cleaning products to keep their home clean and trying to make them safe, it makes me sad because they are trying to do their best with the information they have. You expect to be able to go into the store and buy something off the shelf and it is safe for your family. You expect that the government would have our best interest at heart, but unfortunately as I have learned, we need to be our OWN advocates for our health and wellness.
A little over two years ago- I made the switch to a toxin free home- it took some time but we do not use any products with harmful chemicals in our house or our yard. I can feel really good knowing when I clean that my family is breathing in only pure essential oils and plant based ingredients- no chemicals, no yuck, just plant based goodness.
Our immune health is dependent on many things- what we eat, moving our bodies, stress management, sleep and our toxic load that we carry with us. Harmful toxins in products can irritate lungs, trigger allergies and disrupt hormones (ewg.org). If we are trying to support our immune system, why on earth would we clean with, breathe in, and eat off of dishes that are laden with chemicals?
So, you ask...what do I use to clean my home?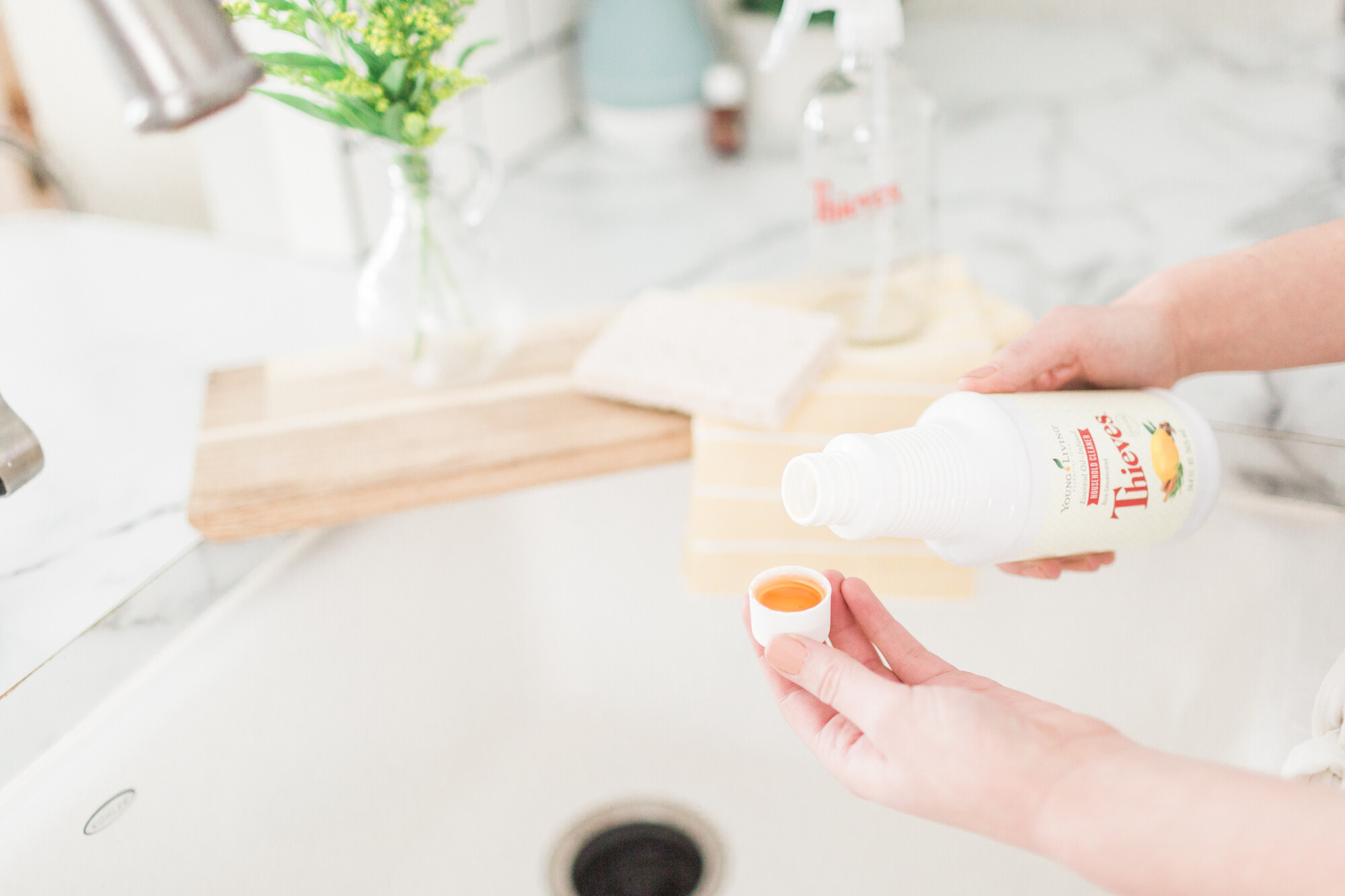 Now, and for the past several years, my favorite cleaner is Thieves Household Cleaner, made by Young Living. It is plant based, and contains oils from the Thieves essential oil blend including cinnamon bark, rosemary, and clove.
One bottle of Thieves Household Cleaner concentrate can make up to 30 bottles of cleaner! Crazy right? The cost is less than a $1 per bottle. If you would like to get started with the Thieves Starter Kit, click
here
.
When you purchase any products from my link, you are welcomed into our special wellness tribe!
As a member of my community, you will have access to our exclusive members group, a website member area, team wellness challenges and more. If you have any questions, send, just send me a message! I would love to help you clean green- and for you and your family to be safe in your home!
Which product are you looking most forward to changing to all natural in your home? Let me know in the comments!
If you want to hang out with some amazing women in my free wellness community- join
here!
Wishing you health and happiness always,
Sheri is a mom, wife, coach, author, speaker, and educator. She helps women in midlife to gain energy, be healthy, and to find JOY again. She lives near Cinderella's castle in Winter Garden. Florida with her family.
From time to time, Sheri may share affiliate links on her blog and website, and may earn a small percentage on your purchase-this will not cost you anything extra, and she appreciates your support!
Please join her free community for midlife women here.